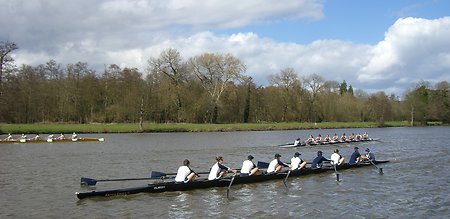 My approach
I have a lifelong interest in sport, and have played various sports at a high level. This has given me an insight into the physical, technical and psychological demands of being an elite athlete. I have also been involved in coaching sports for about 20 years. In the past, I worked with many women's sports teams and individuals in Oxford University on aspects of their mental preparation for sport.

More recently, I have worked with solo ocean rowers. I worked with Sarah Outen before and during her solo row across the Indian Ocean, which made Sarah the first woman, and youngest person, to make that crossing solo. This was detailed in her book A Dip in the Ocean: Rowing Solo Across the Indian. I have continued to work with Sarah, as she is now circumnavigating the globe under her own power.

You can read more about Sarah here. There is also an article on this site that describes some of my work with Sarah, and my thoughts about it.

I use some techniques that are based on the theories of Transactional Analysis (TA), and others that have been developed by sports psychologists. TA has techniques for describing how individuals communicate with each other, and therefore can improve communication within teams, and between coaches and sports people. TA also provides insights into individuals' motivation and the ways they may damage their performance by negative self-talk. My goal is always to build on a person's mental strengths, and develop with them a range of techniques for managing and improving the aspects that they find difficult.

I work with both individuals and groups (for example, whole teams or squads). We generally meet for hour-long sessions, regularly, or on a flexible schedule to fit in with your needs and schedule. In this way, the athletes can discuss the strengths and weaknesses they need to address, and try out and evaluate new mental-preparation techniques, over a period of training and/or competition.

Back to top
Why prepare psychologically?
Psychological preparation plays a huge part in sporting success. Physical and technical training are, of course, essential, but they will only take you so far. The 'edge' in competition, that sets apart winners from losers, is all about psychology. When two teams or individuals are equally well trained, it is the one that handles the pressure of the competition best, and who focuses their desire to win in the most productive way, who will win. Moreover, even if one team or individual is less well prepared physically and technically, better mental preparation may still allow them to succeed 'against the odds'.

The importance of psychology on the performance of well known sports people has sometimes been all too clear, for example, in the athlete who 'chokes' at a key point in a match, and seems unable to win despite being in a winning position. On the other hand, some people have pulled themselves back from apparently inevitable defeat, seemingly by the sheer force of their desire to win. These things happen not only to high-profile athletes, but to people at all levels of sports. And the benefits of psychological preparation are available to all sports people who are willing to learn some techniques and pay some attention to their own attitudes to training and competition. At any level of sport, for me, psychological preparation is not an added extra – it's essential.


Back to top


How can psychological preparation help?
Psychological preparation can improve your sporting performance, both by improving the quality of your training, and by helping you to perform optimally under the pressure of competition. Such psychological preparation can include:

Setting realistic goals for training and competition, to increase motivation and allow you to evaluate your performance and progress

Improving concentration, so your efforts during training and competition are focused in the best way possible

Mental rehearsal of physical and technical aspects of sports, to improve your expertise

Mental rehearsal of competitive strategies, to reduce the stress of competition and increase your confidence


Devising ways to deal with self-defeating thoughts and negative self-talk, to allow you to continue training and performing optimally.
If you're interested
The first step is to arrange an initial meeting, at which you and/or your team and I can discuss your training needs and goals. In this way, I can develop sessions that are tailored to your needs.

To book an initial meeting, or make an enquiry, please phone me on:

0787 976 9168

Back to top